Product Details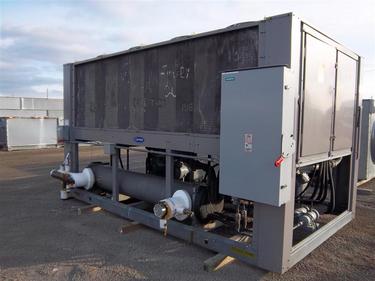 Product Detail
Type:
110 Ton (Nominal) Carrier mnfg. air-cooled chiller package
Manufacturer:
Carrier
Volt/Phase:
460 Volt, 3 Phase
Description:

Carrier mnfg Chiller Package

Chiller package includes (4)Carlyle mnfg compressors, air-cooled condenser, shell/tube heat exchanger and starter box with related electrical all mounted in an outdoor cabinet.
Chiller Model: 30GTN110- - -620KA, SER#4500F43737
Manufactured in 2000.
Unit dimensions: 8'W x 14'L x 8'H.
Approximate Operating Weight: 8,660 lbs.
Unit designed to operate on refrigerant R-22.
Factory literature and additional photos available upon request.
Contact Barr for Pricing on this Unit
1-888-661-0871