Product Details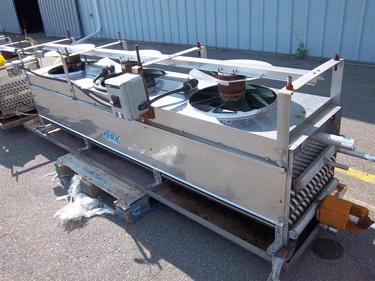 Product Detail
Type:
Used 4.125 Ton (49,500 btuh @ 10 degree TD) ammonia "BTR" cooler evaporator.
Manufacturer:
Krack
Model No.:
SBTR38-RT
Serial No:
Volt/Phase:
115 Volt, 1 Phase
Description:

2 Units available.

4 fins per inch, stainless steel coil, cabinet and insulated drain pan.
Each unit has 3 fans, 1/6 hp motors and 5,550 CFM.
Water defrost coil only with aluminum header.
Each unit has 3 fans, 5,550 CFM.
Recirculated top-feed.
Approximate unit dimensions: 30" deep x 132" wide x 36" high.

Price below is per unit.
Contact Barr for Pricing on this Unit
1-888-661-0871