Product Details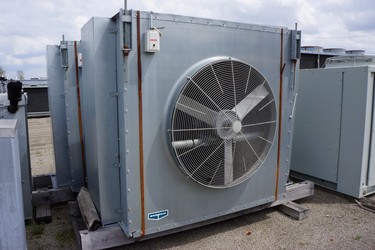 Product Detail
Type:
Used 11.08 Ton (10 degree T.D.) ammonia cooler evaporator.
Manufacturer:
Evapco
Model No.:
NTL1-3164-200P
Serial No:
Available upon request.
Volt/Phase:
230/460 Volt, 3 Phase
Description:

Unit includes 1 fan with 2 hp fan motor.
4 fins per inch, 19,338 CFM and hot gas defrost steel coil only.
Units designed for recirculated top feed operation (ammonia).
Approximate shipping weight: 2,938 lbs.
Approximate operating weight: 3,016 lbs.
Approximate dimensions:49"W x 98"L x 81"H
Units manufactured in 2001.

2 Units available. Price is per unit.
Contact Barr for Pricing on this Unit
1-888-661-0871